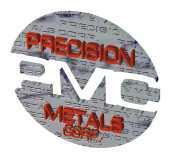 Precision Metals Corp.
221 Skip Lane
Bay Shore, NY 11706

631.586.5032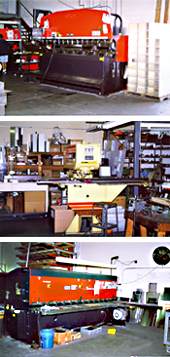 FACILITIES
Precision Metals Corp. specializes in prototype work and takes pride in the quality of work their customers receive. Our facility is versatile and gives you quality parts along with competitive pricing on either short or long run quantities. Some of our specialties range from government contracts to custom fabrication of parts to your blue prints, or your own design, with PMC as consultants if needed.
Punching:
Amada VIPROS 255 fully servo hydraulic cnc turret punch press, with three auto index stations. This is one of the fastest machines of its kind - punching in speeds in excess or 950 hits per minute.
Amada ARIES245, cnc turret punch press with two auto index stations
Strippit manual punch press, single stations (2)
Power presses (3) ranging from 10, 20 and 35 ton capacity
Kick presses (5) various sizes and capacities
Very wide range of tooling for all presses to customize to any needs that you may have. Plus the capabilities of on site fabrication of tooling if needed.
Bending:
Amada RG100, ten foot 110 ton capacity and digital backgauge for accuracy and consistency
Amada RG50, six foot 50 ton capacity with the same features
Six foot Chicago power brake
18" Chicago power brake
Hand brakes (2) 10" and a 24"
Multiform bending machines (4)
Shearing:
Amada 10 foot, 1/4 inch capacity with digital backgauge and pneumatic sheet supports
Pexto four foot power shear with 11 gauge capacity
Three foot manual shear for extra thin materials
Notching:
Amada ten inch notcher with digital gauging, coping and radius attachments
Six inch hand notcher for thin materials

Copyright © Precision Metals Corp.